ABCB5 as a marker for highly potent mesenchymal stem cells
In 2003, scientists led by Prof. Dr. Markus Frank at the Boston Children's Hospital - a teaching affiliate of Harvard Medical School, Boston, Massachusetts - described a new and previously uncharacterized group of mesenchymal stem cells expressing ABCB5 in human skin. These cells have unique immunomodulatory properties and regenerative potential that make them unique candidates for treating inflammatory and degenerative diseases.
Anti-inflammation:
the key mechanism of ABCB5
One of the leading causes of untreatable conditions is local or systemic inflammation, which prevents the body from activating the regeneration process.
The administration of ABCB5-positive stem cells to patients triggers anti-inflammation through interaction with immune cells (e.g. macrophages, T-cells, neutrophils), thereby switching from a pro-inflammatory to an anti-inflammatory environment, giving the body a chance to recover.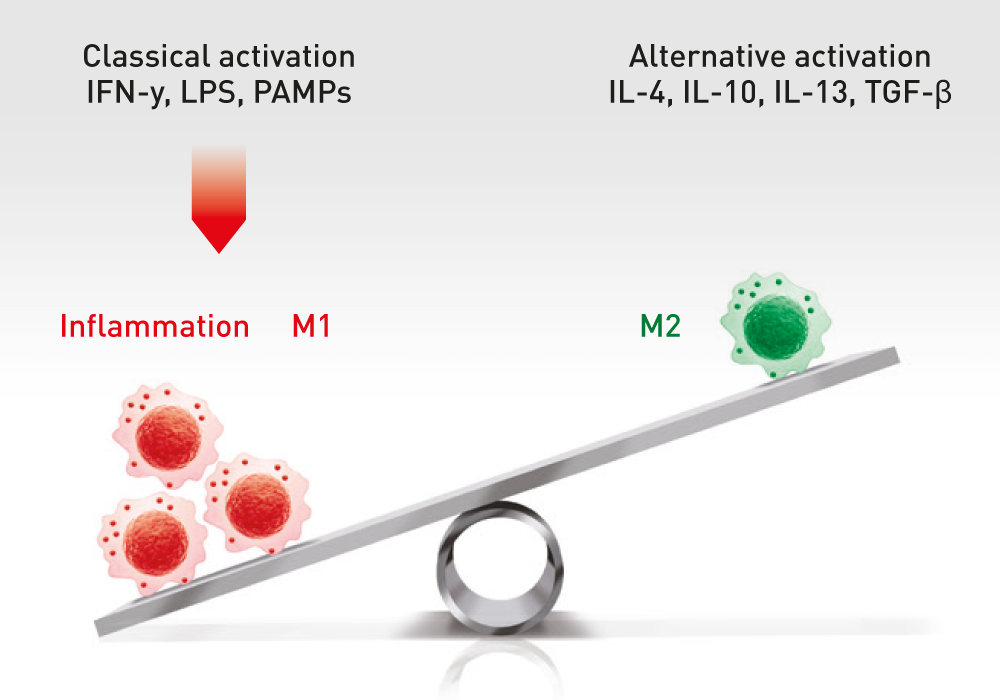 (A) Chronic wounds persist in the inflammatory phase through IL-1β- and TNF-α-mediated autocrine recruitment and activation of pro-inflammatory M1 macrophages.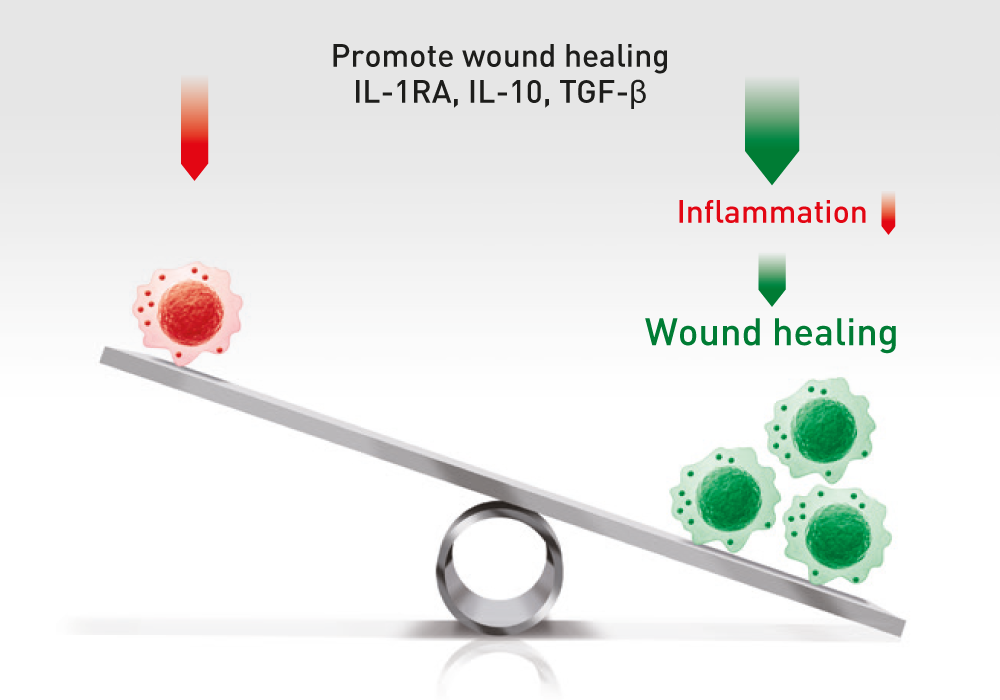 (B) ABCB5+ mesenchymal stem cells, by adaptive release of IL-1RA, break the vicious cycle of autocrine M1 macrophage activation, thus shifting the balance from M1 macrophage-dominated inflammation to M2 macrophage-dominated healing-promoting tissue environment characterized by decreased levels of pro-inflammatory cytokines TNF-α, IL-12 and IL-23, and increased levels of anti-inflammatory cytokine IL-10.
From local inflammation to cytokine storm: the story
Based on scientific evidence, we initially focused on local inflammation in patients suffering from chronic wounds, thereby validating the mechanism of action.
Applying the knowledge gained from local clinical data and additional research programs, we expanded our clinical focus to systemic inflammatory diseases. Working in conjunction with world-renowned experts, we went on to develop a clinical research program focusing on patients with a rare pediatric disease accompanied by systemic inflammation and unmet medical needs.
Motivated by our knowledge of how stem cells modulate inflammation, we took our clinical program to the next level: a systemic life-threatening, inflammatory condition with massive cytokine storm, ultimately proving fatal.
Localized
inflammations


Generalized
inflammatory processes


Systemic life-threatening
inflammations


From bench to bedside: allogeneic off-the-shelf stem cell therapeutics
Based on research, we developed a unique patented manufacturing process isolating ABCB5-positive cells as an ultrapure high potent subpopulation of mesenchymal stem cells with defined quality and release criteria. That brings the product to the patient.
How does RHEACELL's ABCB5+ MSC approach work?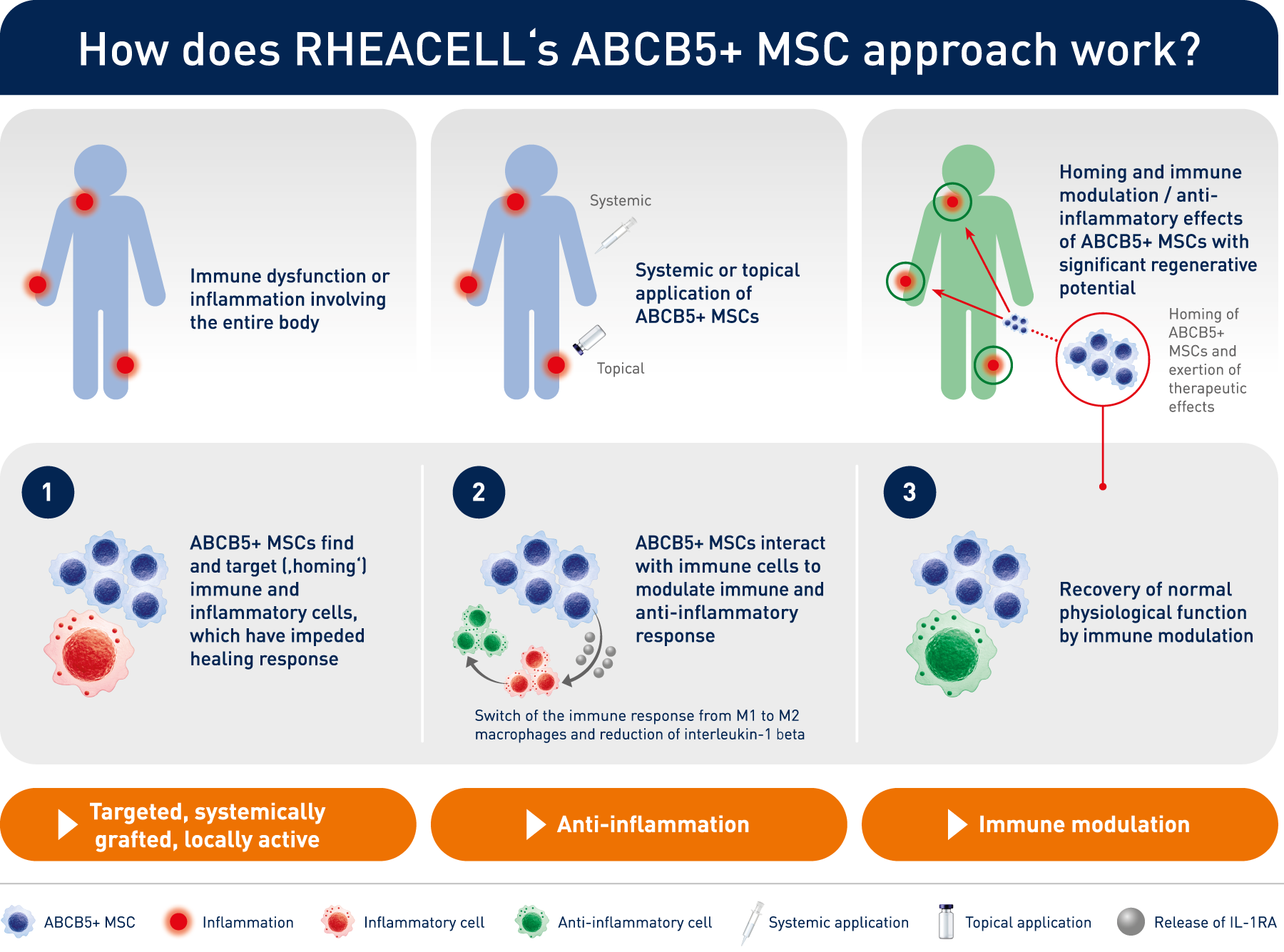 The technology behind the clinic: unique, potent stem cell therapeutics from an expert, pioneering manufacturer.
We use cutting-edge, in-house process technology and quality control systems to generate state-of-the-art stem cells and ATMPs (Advanced Therapy Medicinal Products) in line with AMG (German Medicinal Products Act) requirements.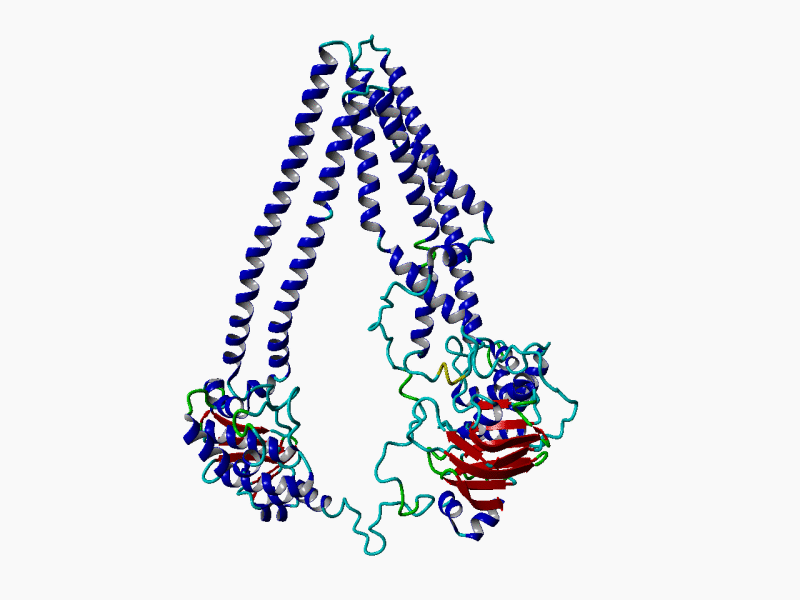 RHEACELL holds an exclusive license to the full ABCB5 gene and protein patent portfolio from Boston Children's Hospital, a teaching affiliate of Harvard Medical School, Boston, Massachusetts (37+ exclusive patents).
Our ground-breaking ABCB5 research has received widespread coverage in peer-reviewed academic journals, leading to high-end potency assays, translating research into clinical efficacy.
Off-the-shelf & ready to use: covering the full clinical development spectrum from CMC through to market launch
High through-put stem cell production based on globally patented technology and expertise - catering for world-wide market needs - anytime, anyplace, anywhere.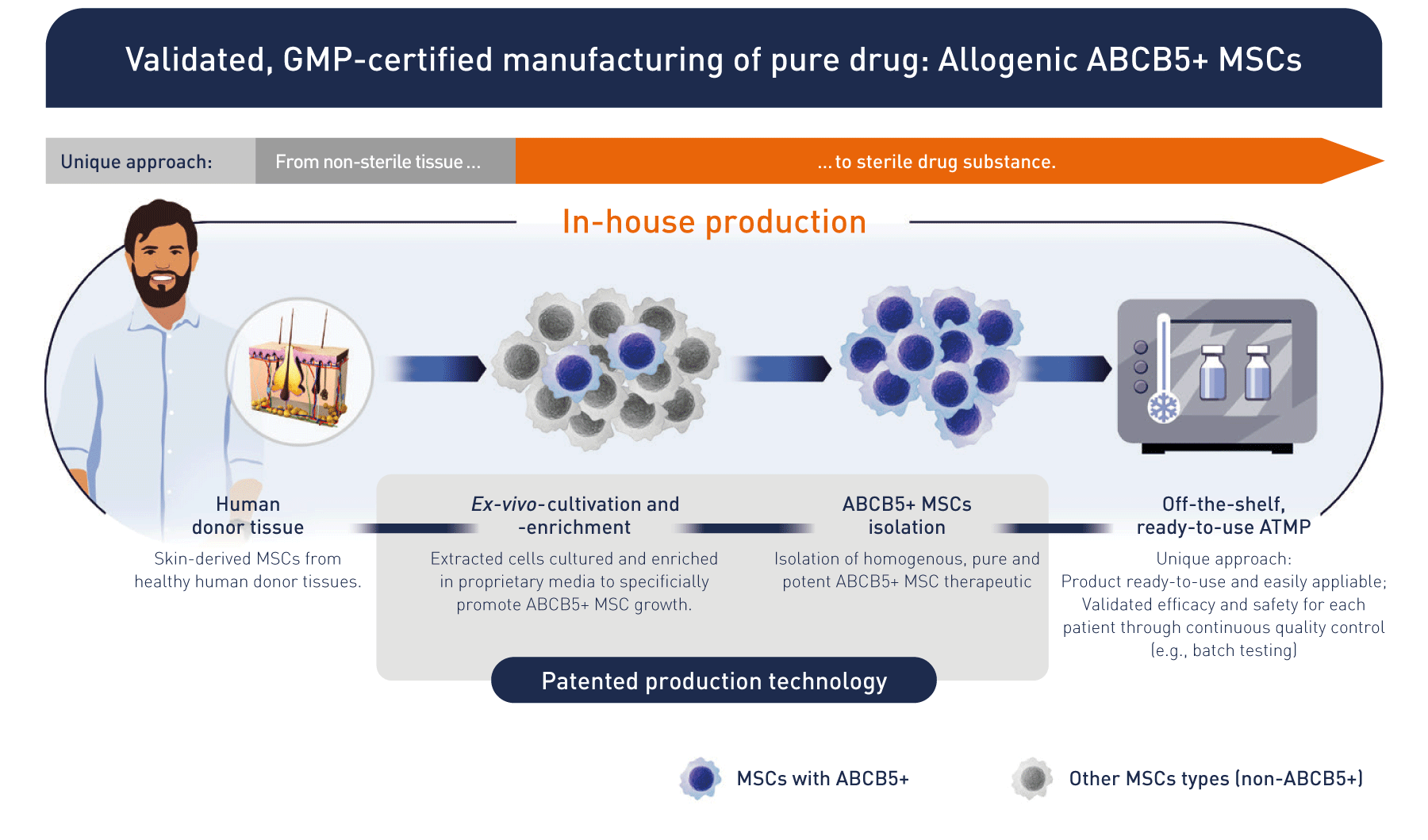 Tried and tested, high-potential technology – heralding the arrival of next-generation cell therapies
Our tried and tested, patented technology platform nurturing next-generation technologies (CRISPR/Cas, iPS Technology and 3D Bioprinting) heralds the arrival of next-generation cell therapies.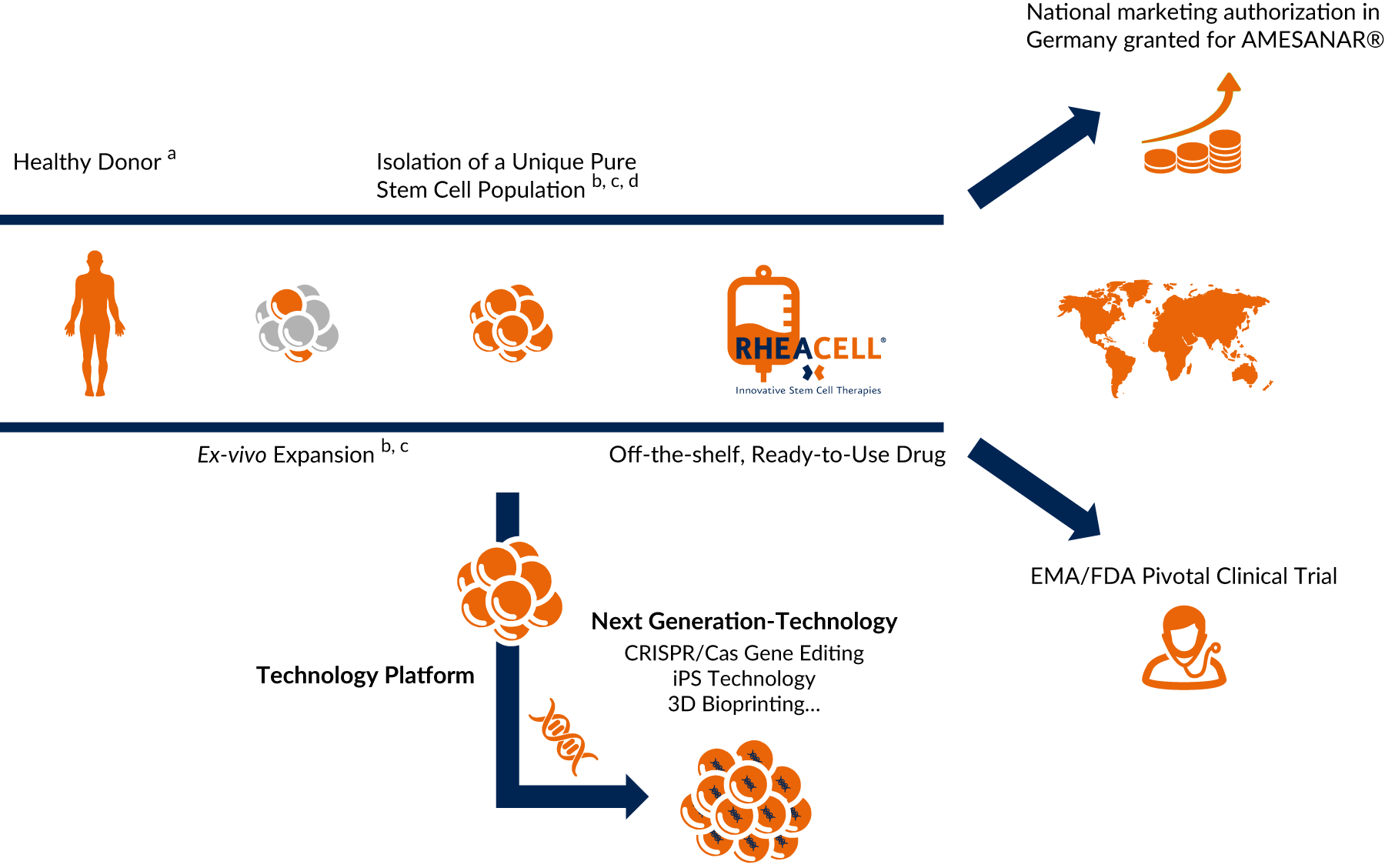 a Agency-regulated tissue removal centers
b Patented technology: 37 exclusive patents with Harvard University
c Ballikaya et al., Stem Cell Res Ther. 2020/Kerstan et al., Cytotherapy. 2021
d Isolation of ABCB5-positive mesenchymal stem cells